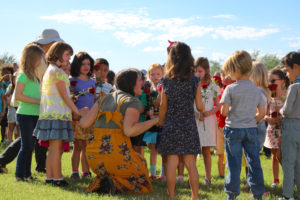 by Rebecca Briamonte, Enrollment Director
As a long time TWS parent and employee, it has been a joy to observe the growth and development in our community.  This month's Rose Ceremony marks the 5th year in a row of welcoming a class of 20 or more children to Grade 1.
Just a few years ago, the milestone of 200 enrolled children seemed like a dream far in the future and now enrollment numbers in the 220's and high 230's are the norm. As Arizona's oldest, and often only, independent Waldorf school, these TWS enrollment numbers reflect the uniqueness of our Tucson community and the value placed on a Waldorf education by so many families.
Interest in the school is still strong , and new students are expected to join throughout the year. The  first tour, scheduled for September 12th, is nearly full. I hope you will all join in welcoming the new children and families. Here's to another great year!