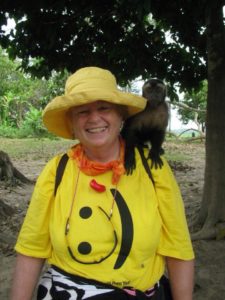 TWS is sad to announce the loss of a dear friend and colleague, Kate Donnelly, who passed away last Friday, Dec. 13, in Las Vegas, Nevada. Miss Kate was a teacher in the Early Childhood program from 1999 – 2010, and touched the lives of countless children and their families, bringing joy and love to all she met.We will be remembering Kate's life at an alumni gathering at TWS on January 4, 2020, from 2 – 4 PM, and share with you this remembrance adapted from a post by Lisa Archer, TWS teacher and friend:
"Embrace Life with an Open Heart" is one of the main lessons learned from Kate Donnelly who passed away from cancer on December 13, 2019 on the Feast of Santa Lucia. Like Santa Lucia, she certainly brought love and light to this world, blessing all those who had the privilege to know her. She was an indomitable spirit who will be greatly missed. But this is more for those who did not have the privilege to know Kate Donnelly.
The students over the years who were lucky enough to have Miss Kate as a teacher in kindergarten were also regaled with spontaneous stories of Polly, the Pirate Cook – "Polly doesn't cook, she orders out" – and they made beeswax "clown noses" to decorate the candles she would give to each child on their birthday. She could see the underlying spirit of each child and her love of each individual certainly made everyone feel special, a great gift to help carry each person through tough times.
 But Kate didn't just bless the children in her care, she also brought so much to all her colleagues and friends. Dressed in her tie dye and Larimar jewelry and bee covered crocs, she would lead a heart meditation in faculty meetings, and wrote this song for Michaelmas one year – a song which seems particularly appropriate for us now as we carry on with out her:
 Oh Strength, O Strength to Carry Me!

 By Kate Donnelly

 Oh Strength, Oh Strength to carry me!

 Oh Strength, Oh Strength, my shield give me!

 Oh Strength, Oh Strength, in me all ways,

 And courage through the light of days,

 And courage through the light of days!

 Oh Strength, Oh Strength, as knights of old

 Had courage through the stories told!

 Oh Strength Oh Strength may I be bold!

 See here, my shield, which shines as gold!

 See here my shield which shines as gold!
 Although children may dream of running away to join the circus, Kate carried this dream into adulthood, wanting to join the Cirque de Soleil as a clown. She always tried to bring a smile to people's faces, whether in her red clown nose, her bee lady outfits or dancing Thriller as a zombie bee lady. Kate always seemed to have one foot in this world and one in the other. Like the bees she loved, she seemed to hover above this earth. The stones she loved to collect, and the crystals and gems she would buy at the Tucson gem and mineral show – "boxes of rocks" she moved with her from place to place – were like ballast keeping her tethered here to this earth. Now she is free of the physical world and can soar. All who knew you, will miss you, Miss Kate. As people gather in various places to remember Miss Kate and her life, may they also remember the story she would tell of a young child in her class who once said, "Miss Kate goes to all the parties!" Surely she will be there above us as we gather to remember her. Thanks, Kate — we are glad you were part of our lives! 
Join alumni families as they join together to play games and enjoy refreshments while sharing memories of her on January 4th, 2019 at the TWS 2020 alumni gathering.