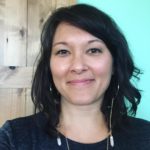 by April Wiley, Grade 6 Parent
On behalf of our Grade 6 class, I would like to take this time to share a glimpse into the incredible experience we had at the Medieval Games this year. Words honestly cannot describe how this event impacted us, but what I can genuinely say is that we left as changed individuals, as students and as parent and teacher volunteers. This rite of passage experience was one we as parents will never forget, and I hope that our children will not soon forget. If you have not heard what the Waldorf Medieval Games is about, it is a time in which a child cuts the cord from their parents. They go off on their own and push themselves past their limits to discover their capabilities and capacity to conquer whatever challenges are set before them. They are then recognized and honored for their accomplishment, just as a real Squire would have experienced during the medieval period, but less gory.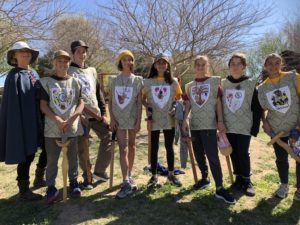 This year, one particular moment we had the privilege to witness culminated all of the times we felt prideful for our children. Imagine 150 children on a field pairing up to battle one another in stave fencing. Each time an individual lost, they took a knee and waited for all the other "fights" to declare their winner. The students on their knees left the field, and the winners paired up to fight again. This process continued until the top three contenders were left standing. Our very own Penelope Heller and Cyrus Wiley were two of the three remaining. They each had to battle the third contender to determine who would fight in the last match. They were exhausted, hot, and sore from the previous battles and only had time in between each battle to drink water. Well, it came down to Penelope and Cyrus. On bent knee, as soon as Cyrus saw that Penelope won her match, he dropped his head to his knee and thought, oh no. Two friends, who have known and loved each other since they were in preschool, were now facing to battle one another. Both conflicted to fight against one another, neither wanting their opponent/friend to lose but also not wanting to lose themselves had to put their best foot forward and put forth their best effort. When they faced each other to fight, Penelope (unbeknownst to her) comforted Cyrus by saying, "Here we go again, we've been here before". And through their exhaustion and conflict, they did their best and had a suspenseful match. When the match was over, they shook each other's hands then hugged each other, and they both broke down into tears. The fight declared a winner, and Penelope took a knee. After the Queen awarded Cyrus one of her glass gems as a token of her acknowledgment of a game well played, Cyrus and Penelope hugged again and continued to cry. What came next is what we parents and teachers and spectators were most impressed by, the entire grade 6 class ran up with tears streaming down their faces to embrace both Cyrus and Penelope. There was not an adult in sight that had a dry eye. We were all moved to tears by this loving gesture. Later, a member of the royal court told me that that moment was the most moving moment she had ever experienced in all the years she has been a part of these games.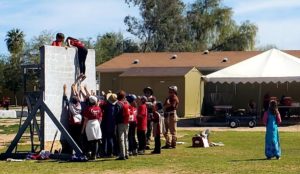 That moment was only a sliver of the pride and honor we felt during the four days and three nights we were at the games. It was more validation that the school we have chosen for our children genuinely cares for the future well-being of our children and will go as far as to hold a very detailed and well thought out event such as the Medieval Games. Every aspect of the games touched on the many virtues the Kingdom of Waldorf was determined to impart the young squires with; Prudence; Temperance; Justice; Fortitude; Perseverance; Faith; Love; Truth; Charity, and Hope. These individuals who have worked so hard to hold these games, and our children's rite of passage, with such care, volunteer their time for this event. Even the Royal Court volunteers their time and has been for 12+years, and they look forward to it every year!! I spoke with many of them, and they all had similar sentiments about the games. To them, it is a chance to help prepare the kids for their life long journey ahead. They love to provide opportunities for young beings to learn about trust. Trust in others and trust in themselves. They take great pride in teaching them that they are not alone, and if the individual(s) suddenly find themselves alone, they can trust and find ways to push past their limitations and accomplish great feats. We, the grade 6 parents, are moved by their passion and dedication to these kids and feel immense gratitude for them.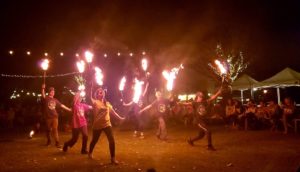 Our kids are so fortunate to have this growing experience, and we are moved to tears. We have much to be thankful for and to be proud of, especially our newly knighted soon-to-be-teens. They showed up as their best selves, proudly represented our school, had high marks in all their events, and was acknowledged by the Queen Mother for their valiant efforts. Rowan Clarke and Evan Wagner both came home with special handmade gifts from the queen herself for their outstanding showmanship. We have never had a more beautiful experience with this class and are proud of every single one of them. Hip, Hip, HAZAH!
-April Wiley (and all Grade 6 Parents)