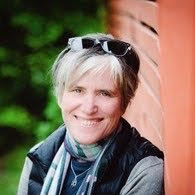 Jen Rosenstein Hired Part-Time as Pedagogical Director
Please welcome to the Tucson Waldorf School community Jen Rosenstein as our new Pedagogical Director. Jen will be serving part time to remotely support grades teachers and parents.  Jen has been a Waldorf class teacher for 23 years and has taught at various schools up and down the east coast during her career, including The Waldorf School of Princeton, The Waldorf School of Baltimore, The Steiner School in NYC, and Mountain Laurel Waldorf School in New Paltz, NY. In addition to that, she helped to start the St. Louis Waldorf School, and has been a summer instructor of grades preparation at Sunbridge Institute in Spring Valley, NY. Most recently, Jen has been teaching homeschooled students as well as helping to coordinate homeschooling and distance learning for Waldorf Schools.
Her passions, aside from teaching, include long walks with her dog down winding country roads, watching the local wildlife, reading, and music.
Andrea Fiser to Serve as Pedagogical Support
Assisting Jen Rosenstein, Andrea Fiser will be transitioning from Lead Early Childhood Teacher to Pedagogical Support, where she will serve on Leadership Committee, as well as helping Early Childhood faculty and parents. As you may already be aware, Ms. Andrea has studied Waldorf education and child development for more than twenty years and has taught in Tucson Waldorf School's Early Childhood program for over ten years. She received her Waldorf early childhood teacher training from Sunbridge College in New York. She is also certified in therapeutic puppetry and storytelling.
Ms. Andrea is a talented fiber artist and enhances her nursery classroom with the beautiful felted art and puppets she makes. She is the mother of three children and one grandson.
To get in touch with Pedagogical Support (either Andrea or Jen), email [email protected] You may also email Jen directly at [email protected], or Andrea at [email protected].
Leila Lopez to Serve as Marigold Garden Lead Teacher; Evie Robinson as New Marigold Garden Assistant
Ms. Leila has worked in early childhood education for more than ten years, most of those years as assistant to Ms. Andrea in Marigold Garden. She considers spending time with children to be one of her favorite things to do. She has attended the following workshops at Rudolf Steiner College: Fundamentals of Kindergarten, Storytelling and Puppetry, Loving Discipline in the Classroom, The Fairy Garden: Gardening in the Kindergarten, Movement and Circle, and Spatial Dynamics. Ms. Leila is a well-known local musician and often offers her music to school events.