River Road Gardens – Open House – Experience the Farm!
January 18, 2014 @ 10:00 am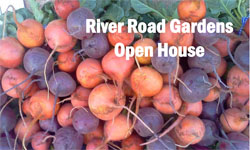 Join a Fundamental Food Movement. Are you passionate about local, healthy food? Then join us at River Road Garden's open house to meet the farmers, share food and drink, and enjoy time in the garden. River Road Gardens is one of the few urban Tucson farms and is the only farm with a Community Supported Agriculture (CSA) program partnered with a school. The farm supplies up to 75 families with weekly shares of vegetables on a member pledge system. You can join this exciting farm community as a CSA member, volunteer, or community supporter. Event Schedule: •Tucson Waldorf School students and CSA members will give tours of the farm at 10:00am, 10:30am and 11:30am •Farmers and members will share comments at 11:00am •Food, mingling, and fun throughout the open house! 10:00 am to 12:00 pm | River Road Gardens on the Tucson Waldorf School River Bend campus – 3605 E. River Rd.