[This profile is an excerpt of our Alumni Newsletter. You may pick up a full copy in the office.]
Name: Anastasia Wrenn
Age: 20
Attended TWS: 2003 to 2011
Grades: 1st through 8th
Teachers: Mabry, Hovland, Archer
Anastasia is a junior at Lake Forest College in Lake Forest, Illinois, where she is majoring in English and theatre. She just found out that she has been accepted to a study abroad program in the seaside town of Tarragona, Spain for the coming spring semester. Anastasia's time at Lake Forest has been marked by all the opportunities she has taken. She has been in several plays as both an actress and an assistant stage manager. She is a sister of Gamma Phi Omega, a Latina sorority. Anastasia worked one‐on‐one with one of her professors as a Chicago Fellows Research Assistant for the Digital
Chicago Program, a fellowship program created to explore at‐risk or forgotten sites in Chicago's history in order to preserve them for a digital future. She made the Dean's List last school year and became a Graduate School Exploration Fellow. One of Anastasia's favorite pastimes is writing poetry.
Waldorf: I really appreciate having gone to school at Waldorf. It created an environment where I learned to want to learn, and it gave me so many opportunities with theatre that I am certain I would have never found elsewhere. Due to that exposure, I am now a theatre major, and I will be leading two theatre classes in the future.
What I also appreciated about Waldorf was that it helped foster a strong bond with my classmates. When I come back to Tucson, I am almost certain to see someone from my class.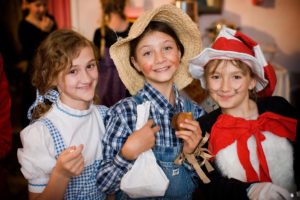 School: I feel so lucky to have found my college. I am a Forester Guide; I work in the admissions office giving tours to prospective students. They ask me how I decided to apply to Lake Forest, and my answer is that I really didn't! My mom told me to apply here, and I did without really knowing much about it. It ended up being a perfect fit. Lake Forest has given me so many opportunities, and I really try to take advantage of all of them. I have been on the Student Programming Board and I am able to take voice lessons through school. I also have a great professor who has given me multiple opportunities with Digital Chicago and will be letting me co‐teach two upcoming classes.
The future: For the summer of 2018, I have a paid research internship through the Graduate School Exploration Fellowship. I will be able to work directly with a professor on academic research within theatre. If I had never gone to Lake Forest, I am certain I would have never developed an interest in academia or considered it a possibility for my future. I am very interested in dramaturgy and would love to work as a literary editor at a theatre at some point. I also would love to live in Mexico.
Interveiw by Lucia Wrenn