Dear #GivingTuesday and Annual Fund Donors,
You did it. You came together and donated, and Tucson Waldorf School faculty and staff were able to receive generous bonuses, after an unprecedented and grueling ten months! From the bottom of each of our hearts, we thank you. Here is just a sample of the gratitude pouring in from our teachers and staff . . .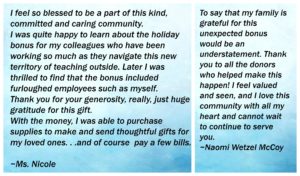 Thank you to all our donors who made this happen, including:

Joshua Cheek
Linda Braun
April Wiley
Sereti Fifeld
Andrew Jones
Sariya Jarsviroj Brown
Jennifer O'Brien
Rose Bangoura
Ernesto Silva
Megan Fallon
Brooke Davis
Briar Martin
Jathan Van Winkle
Lisa Smith
Evan Steinberg
Janine Walter
Christina Weibolt
Andrew Rouse
Eileen McGrath
Sarah Shiller
Brad Brumm and Robyn Kool
Olga Ryan
Rochelle Marsh
Shelly Adrian
Amy Frost
Naomi Wetzel McCoy
The Beiderman family
Michelle Blazewicz
Charlene Campbell
Thomas Conner
Kira Dixon
Elizabeth Falcon
Andrea Fiser
Lucy Harrison
Cynthia Hovland
Jennifer O'Brien
Sarah Shiller
Bayla Sussman
Thank you to the following Facebook Fundraiser Organizers:
Raysun Frost
Naomi Wetzel McCoy
Hilary Moses
A special thank you for large donations:
The Hart Family: $25,000
An anonymous donor: $5,000

And a big Thank You to the anonymous Angel Donor who is seeding the Tuition Support Program with a gift of $60,000!
If you would like to be a part of making this magic happen, it is never too late. Donate via PayPal or send a check to Tucson Waldorf School any time.
Thank you, from the bottom of our hearts.
-Tucson Waldorf School Faculty and Staff