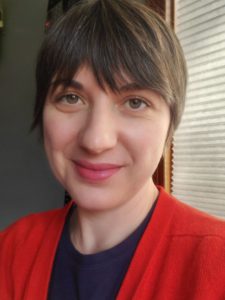 Emma Maruska was born in Missoula, Montana.  As a child, she lived in the Bitterroot Valley, attending the country school, helping in the family nursery business, and getting spoiled with fantastic outdoor adventures. Most of Ms. Maruska's adult life has been in Portland, Oregon, where she obtained a Bachelor of Science in Organizational Communication from University of Portland and a Bachelor of Fine Arts in Craft from Oregon College of Art and Craft.
Ms. Maruska's love of the classroom was ignited while teaching English to middle school students in rural Japan.  Combining all of her loves  – craft, kids, and school – Ms. Maruska began pursuing Waldorf teacher training in 2016. She holds certification as a Grades Teacher from the West Coast Institute in Vancouver, BC, Canada.
Ms. Maruska loves Waldorf education because it connects children not just to their intellect, but also to their realm of feeling and willing.  When young individuals are able to stir up and balance these forces within themselves, they expand their capacity for acting out of kindness and service for the world.
Ms. Maruska served Cedarwood Waldorf School in Portland, Oregon, for four years as Upper Grades Support Teacher, Math Support Teacher, After-School Program Director, and Practical Arts Teacher.  She comes to Tucson from Santa Fe Waldorf School where she taught as a grades teacher.
Ms. Maruska enjoys hiking with her dog and friends, cooking one-pot wonders, and making and appreciating anything in the realm of craft.  Her own art practice includes paper making, fabric dyeing and stitching, and clay handbuilding.  She is excited to roll up her sleeves and put her hands to task at Tucson Waldorf School!