Each spring, in Waldorf Schools throughout the world, fifth-graders gather on vast fields in city-states to compete with grace, strength, and beauty as a culmination of their studies of Ancient Greece. Rudolf Steiner described the 10-11-year-old child as being at the pinnacle of balance in their physical and emotional beings. Fifth grade marks the last developmental year of the grade school child before the plunge into adolescence, and so they have spent this year learning about the mythologies of Ancient India to Persia, from Mesopotamia to Egypt, and finally, Greece where those citizens celebrated grace, beauty, and reverence for skill, athleticism, and the arts.
On Saturday and Sunday, May 15th and 16th, Grade 5 students from Tucson Waldorf School and Desert Sky Community School (a local Waldorf-inspired charter school) met on the field at Tucson Waldorf School to compete in the 2021 Pentathlon.
At the beginning of the event, Tucson Waldorf School student Eliza Heller bravely shared her written Ode to Artemis.
Students were evaluated for Beauty, Grace, Strength/Speed/Distance, Dynamic, Form, and Truth. The following students received special recognition in each event:
Running Long Jump
Jeremiah Rouse, Beauty and Grace
Madalyn (Maddy) Bohlin, Beauty, Grace, and Distance
50 Meter Sprint
Adel Armstrong, Speed
Milo Reitmayr (Desert Sky), Beauty and Grace
Discus Release
Sabrina De La Fuente, Beauty, Grace, and Strength
Javelin Throw
Jack Ryan, Distance
Madalyn Bohlin, Beauty and Grace
Greco Roman Wrestling
Eliza Heller, Beauty, Grace, and Strength
Alayna Leahy (Desert Sky), Beauty, Grace, and Strength
One athlete is chosen by the gods to receive the Laurel Wreath. This year's Laurel Wreath Recipient was Madalyn Bohlin, who stood out for demonstrating Beauty, Grace, and Strength in all five events, and who showed upright character, on and off the field.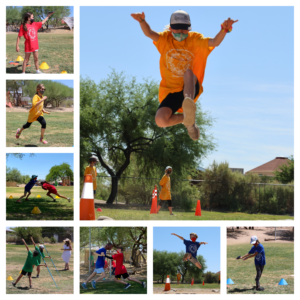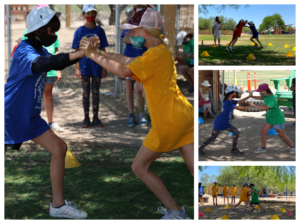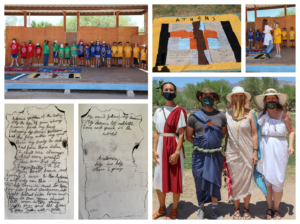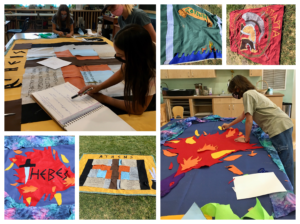 "The overarching protective gesture of Waldorf elementary education is one that shields the young child from the powerful forces of individuality and ego."