Matching Scholarship Funds for Tax Credits | Giving Tuesday
November 23, 2021 @ 8:00 am

-

5:00 pm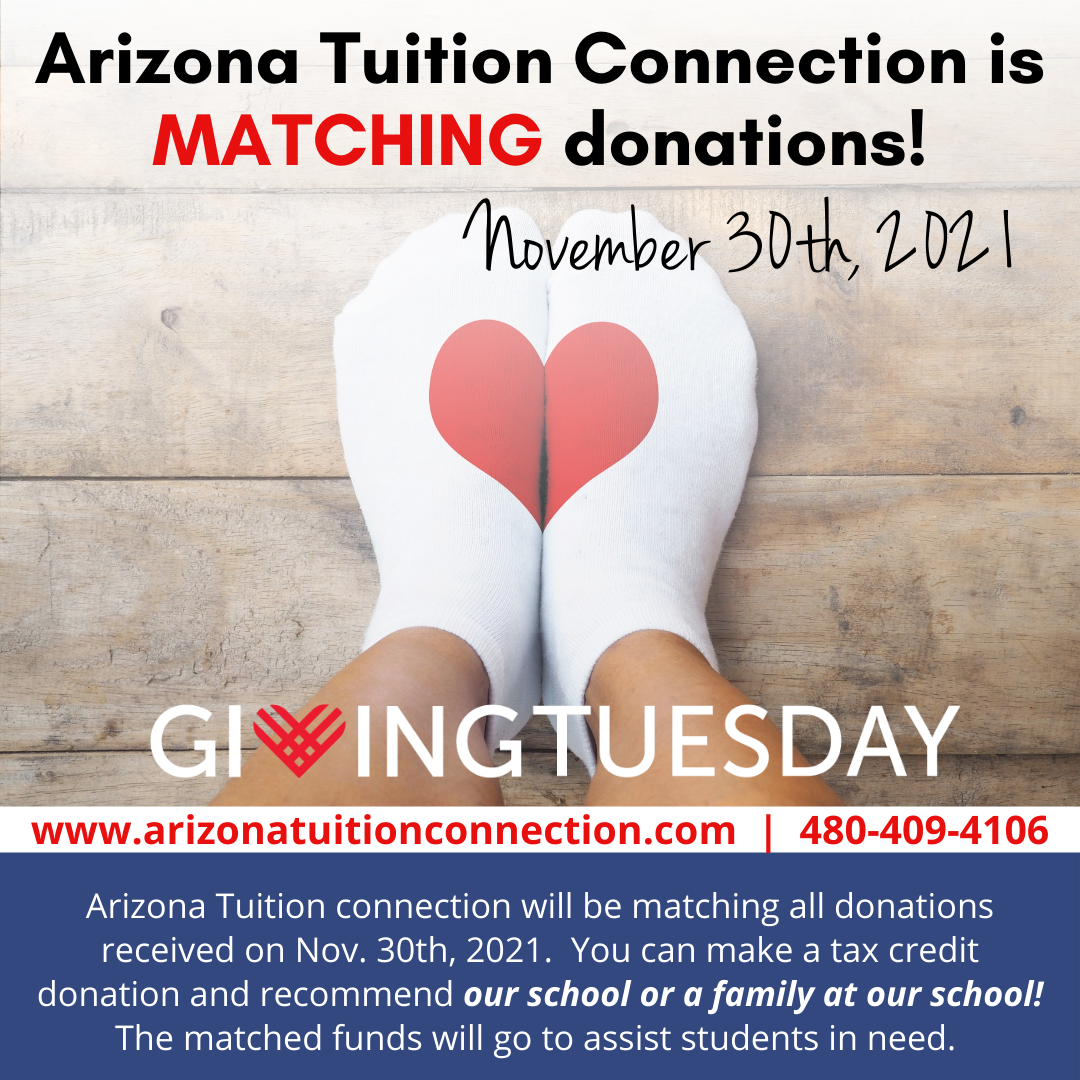 Tucson Waldorf School has an incredible opportunity to raise corporate low-income scholarships for qualifying families on Giving Tuesday. Any tax credits directed to Tucson Waldorf School through Arizona Tuition Connection on Tuesday, November 30 will be matched dollar for dollar with a scholarship for qualifying applicants from TWS.
To give you an idea of what's possible, if 50 families direct a $1000 tax credit to Tucson Waldorf School or a specific student, $50,000 in corporate low-income scholarships would be earmarked for students at TWS.
To direct a tax credit, click HERE.
In the spirit of assisting others on this Giving Tuesday, Arizona Tuition Connection is
excited to announce that they will match any donation received on Tuesday,
November 30th, with an equal scholarship to assist a low-income family at our school.
HOW IT WORKS:
1. Donors make Tax Credit Donations on Giving Tuesday, November 30th, 2021.
2. Donors can recommend your family to receive the donation.
3. Separately, Arizona Tuition Connection will match the donation by sending a scholarship of
an equal amount to support a different (low-income qualified) student at our school.
4. These donations qualify for a dollar-for-dollar tax credit off the donors AZ State taxes,
(married couples can donate up to $2,435, while singles can donate up to $1,219).
Arizona Tuition Connection allows donors to make recommendations, but the matching funds will be pooled and given out to low-income students at your school who have applied to Arizona Tuition Connection.   The matched funds will NOT go to the student recommended by the donor.   
Donations must be made on November 30th, 2021, to be matched.
For any scholarships to be awarded, the student must have applied to Arizona Tuition Connection for the 21/22 school year and be eligible to receive low-income corporate scholarship awards according to the rules established by the State Dept. of Revenue.
Please contact Arizona Tuition Connection at 480-409-4106 or 

[email protected]

  with any questions.