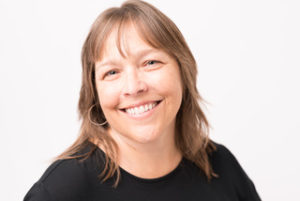 You may have seen parent volunteer Amy Frost on campus or at an event some time over the past two decades or so. Amy is without a doubt one of Tucson Waldorf School's most prolific and effective volunteers. Her family is also the longest continuously enrolled family at TWS!  This year, Amy's  youngest daughter Molly graduates from Grade 8. Is this the end of an era? We will let her tell you …
Interview with Amy Frost, VIP Parent Volunteer
by Naomi Wetzel McCoy
How did you find Waldorf education and, more specifically, what brought you to TWS?
I first heard of Waldorf education in college. A chapter in one of my textbooks described different educational systems, and the paragraph on Waldorf caught my eye; I remember thinking that it would be what I would choose for my children if I ever became a parent.
My older daughter, Jessie, was born in Pittsburgh, and we planned to send her to the Waldorf school there. We ended up moving, however, and had to choose between job opportunities in Tucson and Flagstaff. I had a list of things that were important to me to have in our new hometown, and Tucson had them all. A Waldorf school was on that list, so enrolling Jessie in the Enchanted Desert Playgarden (now TWS) was a given.
Tell me a little bit about the range of volunteer positions and duties you have held over the years.
I'm afraid this is more than "a little bit," and surely more than you have room for. However, I'm sort of proud of all I've done. Not in any particular order, I:
• co-founded the Parent Council, the Caring Committee, and
the Middle School Service Club
• served on the Board of Trustees, the farm committee, and the alumni committee
• was a school librarian (yes, we once had a library!)
• led the parent-child group (now the Quail's Nest) for two years
• accompanied TWS musical theatre productions,
eurythmy classes and performances, strings ensemble performances, and 8th-grade graduations
• was a member of the Quest production team and the Craft Circle, ran the Winter Faire cake walk, and organized three all-school variety shows
• wrote and/or edited
The Friday Flyer
(the weekly school newsletter),
The Sonoran Sun
(the TWS quarterly journal),
Community Connections
(the alumni newsletter), and the annual "Meet the Graduates"
• made the graduation cake for every graduation since the first one in 2007
• washed dishes, moved gravel, built play structures, answered phones, painted classrooms, fed chickens, took home EC laundry, made water runs, and helped with two campus moves
• helped my daughters' classes with reading, painting, music, fundraisers, and field trips
• was a room parent
• founded the River Bend Chorus
You are undoubtedly one of our longest-serving and most prolific volunteers. What compelled you to share so much of your time, energy, and skills with this community?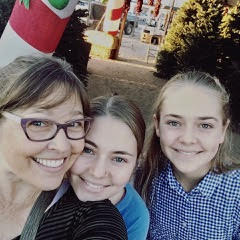 I can think of several reasons. First, I was brought up by a mother who modeled volunteerism for me, and I've been volunteering since I was a child. I've also had the good fortune to be a stay-at-home parent, so I've had more time to volunteer than some other parents. But why have I given TWS so much more of my time than the other organizations I volunteer for? I guess it's because my children were there. TWS was their second home, and I wanted to make it a great one!
Your youngest daughter graduates this year. What are your plans after she graduates? Will we still see you around?
I have so many dreams and plans and am excited to have more time to move forward with them! I'm going to continue to direct the chorus, though, so I'll still be on campus every week.
Do you have any advice to share with new parents in the community that can help them make the most of their family's experience at TWS?
After all these years, I guess I do feel qualified to give advice, so here it is! 
— Read the parent handbook, your ParentSquare messages, and letters from your children's teachers. For real, read them.
— Say "yes"! Donate your time and talents to the school. Your children will take pride in your work. They'll love seeing the crafts that you made for sale in the Angel Room, or knowing that you helped weed the garden, or recognizing you underneath that wig as they navigate the Quest at the Harvest Festival.
— Say "no"! Know when you're nearing burnout and take a break. It's okay to draw firm boundaries if you have other stuff going on and can't do anything more right now than drop off and pick up your children.
— Carpool! Bikepool! Take care of other people's children, and let them take care of yours. Ask for help when you need it.
This is a great community, full of kind people; let them help you. Keep your heart open and keep making friends.
Amy, thank you for all you have done and continue to do for the Tucson Waldorf School community. The community sees you, values you, and appreciates you! You truly have been an integral part of building the strong, vibrant school community we have become.