On September 19th, 2019, Waldorf schools around the globe joined together in celebration of 100 years of Waldorf Education.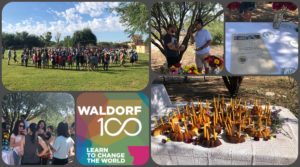 Thank you to everyone who was able to join us as we celebrated on campus with faculty, students, and parents, sang the Waldorf birthday song, enjoyed birthday cake made by the early childhood classes, and engaged in lively conversation. Be sure to check out the video brief, An Education for the Future, and share with friends and family.
Here's to the next 100 years!