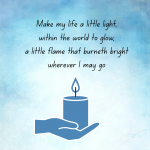 The Tucson Waldorf School Board of Trustees Invites you to come gather at Brandi Fenton Park on Saturday, December 4th from 9am to 12pm for a 5k walk to benefit the school  and kick-off the season of giving.
What, Where, When:
A 5k walk on the Riverwalk from Brandi Fenton Park Ramada # 6 to Natural Resources Park and back. (Walk as much as you wish.) Reach out to your friends and family to ask for sponsorship donations.  Sponsors can pledge per kilometer walked or make a donation for the event. Be sure to ask sponsors to indicate the grade of the TWS student they are supporting. Ramada #6 is the big Ramada between the two horse arenas on the West side of Brandi Fenton Park near the main entrance.
Why:
Join together with our community to enjoy a walk together and raise funds to support our school! Waldorf Walk-a-thon is in the spirit of building community and coming together to support the school.
Who:
Everyone!  Grandparents, friends, extended family, and the TWS alumni community are all invited to participate.