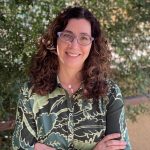 Dear TWS Families, Alumni Families, Past AWSF Donors, and Tucson Waldorf School Extended Community Members, 
I hope this letter finds you well, in every sense of the word. To say that times have been challenging for all is an understatement. This second year of school COVID-management has proven in many ways to be tougher even than in 2020, when everything came to a halt. The good news is the last two years have reaffirmed for all of us in this community the deeply meaningful value of a Waldorf education. 
The foundational experiences of a Tucson Waldorf School education – the teachers' conscious development of close relationships with their students; a healthy and consistent rhythm to the days and weeks; ample time for concentrated practical work; play and movement indoors and out; daily experiences of wonder through art, music, exploration of ideas, and time in nature – all combine into something more: an experience for our children that is exactly what is needed to foster resilience and healthy development, no matter the uncertainty of the greater world around us. 
I am incredibly heartened by all the gestures of support from our community, and am often asked "What can I do to support your students and teachers?" The answer is resoundingly clear: 
1) participate in the Tax credit scholarship program and send your tax credit to Tucson Waldorf School's general fund at Arizona Tuition Connection 
2) make a charitable gift to the Annual Fund 
"How do I give Tax Credits?" 
Tucson Waldorf School's goal is to have every member of our extended community contribute to the school's tax credit scholarship fund. 
Scholarship tax credits can be directed through the link on the TWS website under "Giving" here:

https://arizonatuitionconnection.lpages.co/tucson-waldorf-school/

or you can

call Arizona Tuition Connection at 480-409-4106

and let them know you'd like to give your AZ tuition scholarship tax credit to Tucson Waldorf School.

Drop by the school to say hello and

pick up a few extra brochures to hand out

to your personal contacts. The most effective approach is to simply ask people to consider TWS students at tax preparation time. 
"How do I give to the Annual Fund?" 
Tucson Waldorf School relies on Annual Fund contributions for general operations including teacher salaries, professional development, and other necessities such as shade structures, playground equipment, art supplies, guest artist performances, and maintenance for campus safety. No gift is too large or too small. Every child matters. Every family matters. Every gift matters. 
To make a charitable gift to the Annual Fund, go to the website and select

Annual Fund

under

Giving

or contact our Finance Director, Norma Fregoso at

520-989-7544 or

[email protected]
Many thanks to all of you for your continued support of Tucson Waldorf School. If you have questions regarding the tax credit scholarship program, the Annual Fund, or would like to reach out for a chat or visit the school, please don't hesitate to to contact me, we'd love to hear from you. 
Warmly, 
Rebecca 
Rebecca Briamonte 
Administrative Director 
Pre-K through Grade 8 & Parent Child Classes 
Direct Line: 520-989-7538 
520-529-1032 #100