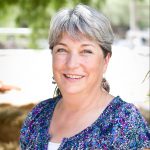 Dear Tucson Waldorf School Community, 
On behalf of the College of Teachers, I am pleased to announce that our First Grade Teacher for the 2022-23 school year will be our current Eighth Grade Teacher, Ms. Cynthia Hovland. 
Ms. Hovland was born in Los Angeles and grew up primarily in Washington State. She considers Tucson her hometown, even though she wasn't raised here. While living and working as an English teacher near Stuttgart, Germany, the site of the first Waldorf school, she discovered Waldorf education.  After learning more about Waldorf education she knew that working as a Waldorf teacher would be her professional path.  Cynthia was the teacher for a Tucson Waldorf School class from first through sixth grade in 2003-2009. After a few years living in Alaska, she returned to Tucson in 2014 to start a new journey as the class teacher for the TWS class of 2022, which she will see through their upcoming graduation this spring!
She has two grown children, two grandsons, and in her free time Cynthia enjoys hiking, dancing, cooking, astrology, reading, writing, and traveling. In addition, she has traveled extensively on four continents and feels herself to be a lifelong learner. Ms. Hovland is a member of the College of Teachers at our school and has served on various committees throughout her years here at TWS. She meets her students and colleagues with warmth and compassion and it has been said that her class is one of the kindest on campus due to the way in which she has worked with them through these last 8 years. The College of Teachers is delighted to welcome Ms.Hovland, with her skills and experience, as the new Grade 1 teacher.
After meeting with the Early Childhood teachers and telling a story to the rising first grade, she felt an immediate and joyful connection to this beautiful class! We look forward to setting up a time very soon for our traditional First Grade Tea so that the Rising Grade 1 families can meet with Ms. Hovland as they embark on this journey together as a class. After that, Ms. Hovland will be focused on her eighth graders as they bring their eight years together to a bitter-sweet end, and will set up the first official meeting with her new class in the early summer.
Warm regards, 
Jennifer Rosenstein